DENR Caraga fosters camaraderie during the Sportsfest 2022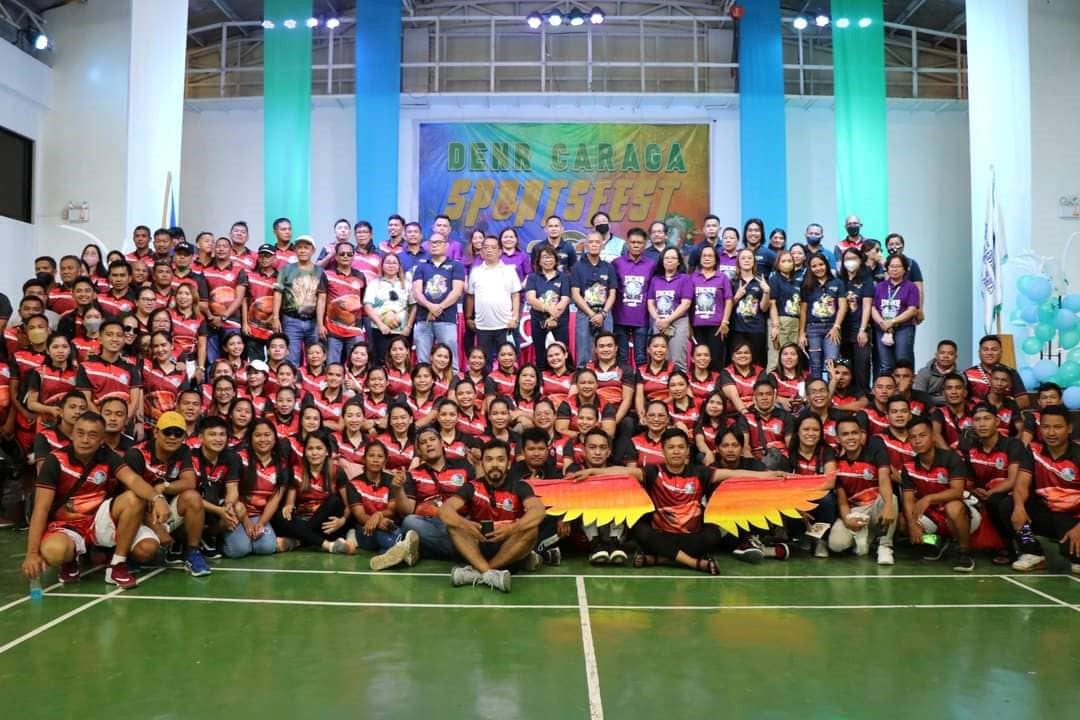 DENR Caraga celebrates the month-long celebration of the Environment Month CY 2022 for the month of June. One of the highlights of this celebration is the Sportsfest held on June 27-28, 2022 at Father Saturnino Urios University Gymnasium, Morelos Campus, Libertad, Butuan City. Delegates from DENR Surigao del Sur (Team Eagle), Surigao del Norte (Team Abucay), Agusan del Sur (Team Kalaw), Agusan del Norte (Team Pawikan), Dinagat Island (Team Flying Fox), Regional Office (Team Tarsier), and also from the DENR attached agencies, the Environment Management Bureau (EMB) (Team Shama) and the Mines and Geoscience Bureau (MGB) (Team Banakon) gathered together to spend and foster the spirit of friendly good-fellowship.
DENR personnel exhibited their fondness in sports and showed sportsmanship in joining various sports activities to include, basketball, volleyball, table tennis, dart, bowling, online mobile legend: bang-bang, doble-cara and the opening salvo which is the cheerdance competition.
All participants enjoyed the triumphant 2-day sportsfest activity. Team Shaman-EMB stood up among delegates and declared as the overall champion, followed by Team Tarsier-Regional Office as the 1st placer, and the Team Pawikan-Agusan del Norte as the 2nd placer.
Int'l Biodiversity Day 2021: DENR reaffirms value of unified solutions to restore nature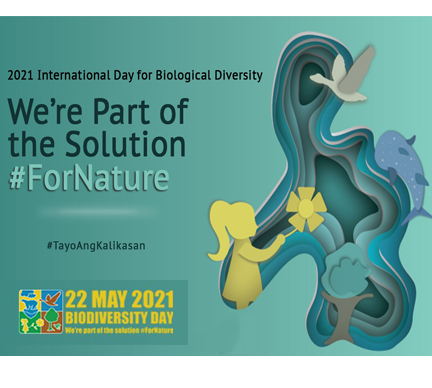 As the world celebrates the International Day for Biological Diversity (IDBD) on May 22, the Department of Environment and Natural Resources (DENR) renewed its call for unified efforts of every Filipino toward biodiversity protection and conservation despite the pandemic.
With the global slogan, "We're part of the solution," the DENR underscores both individual and community actions, regardless of roles in society, as key to save the Philippines' threatened biodiversity.
"For many years, our country has been recognized as one of the mega biodiverse countries in the world. Our location in the Coral Triangle makes us a part of the global center of marine biodiversity. But the Philippines is also one of the world's biodiversity hotspots with our vast resources and endemic species threatened by human activity and habitat loss," said DENR Secretary Roy A. Cimatu.
Cimatu pointed out the critical need to protect biodiversity citing its countless functions that include air purification, food and water security, source of livelihood, nature recreation, and reducing the risk of emerging infectious diseases.